Corporate Social Responsibility
At Glenmark we are sensitive to the needs of a world faced with innumerable challenges. Through our Corporate Social Responsibility (CSR) interventions we have the opportunity to address these challenges and make a difference. Our community programs focus on improvement of child health and improving accessibility of healthcare facilities to the most underserved and vulnerable sections of the society. Other focus areas include promotion of swimming as a sport in India and enabling inclusive development of the society through sustainable livelihoods and promotion of education. As part of our global employee volunteering initiative, 'Glenmark Joy of Giving', our employees across the globe devote their time and efforts to contribute to the society and bring a smile to the lives of the less privileged.
Through our CSR activities we strive to create a healthier, knowledgeable and happier world by enriching lives of all our stakeholders and community at large.
Themed around 'Healthier Children, Healthier World', Glenmark Foundation actively works towards improving child health and has undertaken several community programs focused towards reducing infant and child mortality among the vulnerable population groups.
According to the World Health Organisation (WHO), new-borns face the highest risk of dying within a few days of birth. Majority of these children can be saved by access to simple and affordable interventions. The focus for Glenmark Foundation has been on reducing malnutrition & undernutrition, increasing immunization and inculcating better sanitation and hygiene practices. In collaboration with our NGO partners, we conduct various training workshops and capacity building of front line workers, medical officers, paramedics, local governing body members and care-givers. Home visits are conducted to monitor malnourished children, and counsel pregnant and lactating women. The 'Model Anganwadis' and 'Community Crèches' we have set up ensure supplementary nutrition and regular immunization of children. To promote direct intake of micronutrients in malnourished children, we initiated the backyard nutrition gardens and poultry. Community health libraries are set up to encourage reading on appropriate health related practices that have been receiving positive response from our supported communities. Our 'Health on Wheels for Children' in remote areas helps to bridge the gap between the available medical infrastructure and the villagers.
Our interventions are focused on adolescents, newly married, pregnant mothers, new-borns and children up to the age of five. We believe the right impact can be made through the approach of staying with the woman from the time she is married to when her child is of five years of age. Thus we have staged interventions at each crucial phase of a child and mother's life.
Impacting lives through Innovation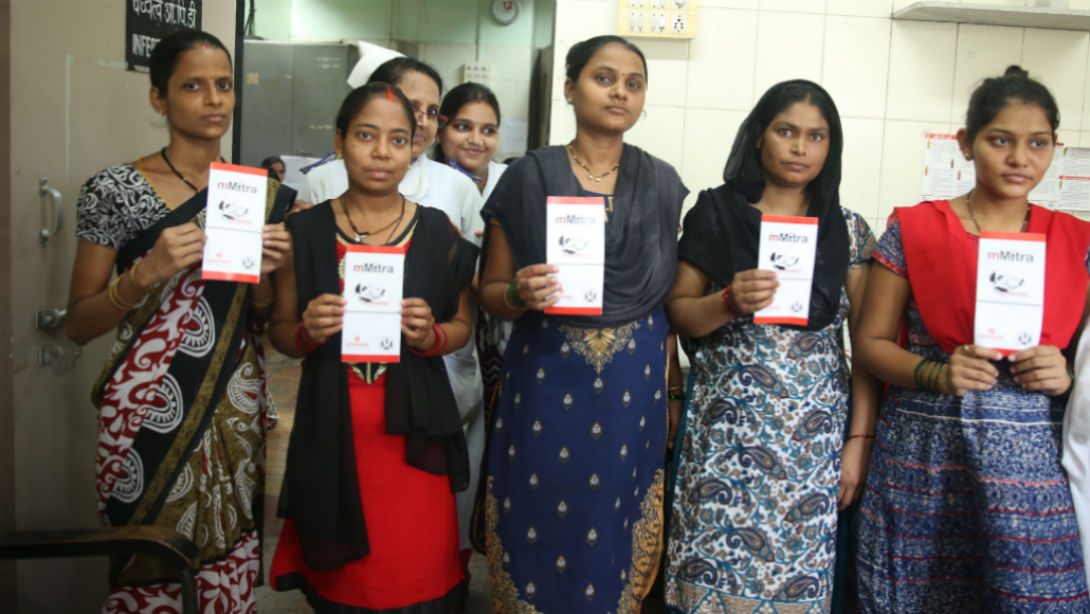 To address the twin issues of infant and maternal health, we have launched the mMitra project which reaches out to the underprivileged pregnant women and mothers through mobile technology. This is a unique initiative which combines the utility of modern technology with the power of accurate medical information to provide relevant preventive healthcare information at the right time. This information on antenatal and neonatal care is provided to pregnant women and new mothers via mobile based voice messages, free of cost. These short voice messages are sent in the language of her choice to each enrolled woman, twice weekly during pregnancy, once every day in the first week after birth of the child.
We have impacted over 14,30,000 lives through our various interventions in child health spread across Madhya Pradesh, Rajasthan, Maharashtra, Himachal Pradesh, Sikkim and Gujarat in India and Nairobi in Kenya. Out of this over 2,46,000 were children who were reached through the various initiatives to improve nutrition, immunization and sanitation levels.
We also spearheaded knowledge initiatives for addressing various child health issues. Our effort was to bring together, significant leaders from the government, corporates, NGOs and relief agencies on the same platform where they could share their wealth of experiences on best practices for child health.
Sustainable Livelihoods
We have initiated the 'Glenmark Learn & Earn' initiative to enhance skill competency & employability of local youth around some of our facilities. The youth acquires the skills by learning and working side by side with an experienced practitioner. This will optimally raise the standard of their skills thus resulting into greater employability index for the individual.
In a step towards promoting inclusive development and an opportunity to lead a productive life, we rehabilitated over 15,000 differently-abled individuals by providing them artificial limbs in association with Jaipur Foot.
Glenmark Global Joy of Giving
Our CSR efforts are supplemented further through the cooperation of our employees who voluntarily contribute either financially or in kind to a selected cause through the Joy of Giving - Festival of Philanthropy. We celebrate the Global Joy Giving in over 40 locations across 25 countries. Over 6,000 employees across the globe contributed and made a difference to children suffering from life changing illnesses, less privileged and orphan children, people with disability, single mothers, and indigenous people. Other activities included donating smokeless stoves to tribal families, and building digital classrooms for municipal schools, donation of health equipment to a Government Hospital, electrification of community health centres, conducting health camps, digitalisation of classrooms, donation of school requirements, providing bicycles to students and providing support to orphanages.
Initiating the Flagship Program - Combating Household Air Pollution - Flagship
According to the 2011 Census, 142 million rural homes, that is almost 85 per cent of total rural households in India, depend on traditional biomass fuel for cooking. There is ample scientific research to prove that household air pollution, primarily caused by smoke from burning solid fuels for cooking, has huge health implications on our country's rural population. The health outcomes are especially severe for the women and children in such households, including various acute and chronic diseases as well as premature births and congenital anomalies.
Taking cognizance of the severity and scale of this issue, Glenmark Foundation has adopted an integrated approach to address the problem of indoor air pollution through our flagship project: Mission clean air and nutrition. By aligning this initiative with our core therapy area of respiratory, we aim to leverage the technical expertise in helping address this problem.
Glenmark Foundation undertook a pilot project in collaboration with Spandan Samaj Seva Samiti and training partner Smokeless Cookstove Foundation to organize training programs on building and installing smokeless mud stoves (chulhas).
Given the positive initial feedback from the pilot project, we plan to scale this initiative to achieve our objective of creating Smoke Free Villages. The project aims at providing the most basic amenities to the citizens - Clean Air and Nutritious Food.
This will be achieved through 100% utilization of better cooking methods like smokeless chulhas, improved cook stoves and LPG etc. and also by encouraging healthy food habits. Apart from prevention in respiratory and other health problems among women, children and their families, our intervention on smokeless chulhas will also lead to cleaner environment and conservation of forests and biomass fuel.
Access to healthcare and education
At Glenmark we also support the advancement of education. Through our efforts, we have helped to develop better infrastructure facilities to improve the quality of education in rural tribal areas of Maharashtra. Another significant contribution is our medicine donation, which improves access to healthcare particularly to those who are remotely located.
Glenmark Aquatic Foundation - 'Creating Champions through Swimming'
The Glenmark Aquatic Foundation (GAF) was set up with the aim of changing this and helping India achieve podium finishes in swimming at the Olympics and other international events. GAF believes that this aim can be achieved by transforming the ecosystem of swimming in India.
To achieve this, GAF operates in three main areas:
Developing Centers of Excellence: GAF, in association with the Maharashtra Government, has set up a Center of Excellence in Dharavi, Mumbai, while another center has been opened at the National Swimming Academy, Talkatora, in association with the Sports Authority of India. International coaches who have trained Olympians, and experienced Indian coaches train and mentor aspiring swimmers at these centers.
Sponsorship of the junior, sub junior and senior national aquatic championship: GAF has entered into a long term relationship with the Swimming Federation of India to provide better facilities to swimmers in the country.
Coach education: GAF aims to create a Coach Education Program to ensure standards of coaching improve in India